Store
The Handmade Teardrop Trailer
"This is a dangerous book. If, like me, you've harbored secret dreams of building a teardrop trailer, there's a very good chance Matt Berger's book will send you over the edge. A truly excellent resource." –– Mike Pekovich, author of The Why and How of Woodworking
Find Your Happy Place in a Classic Trailer You Built Yourself…
If you love camping, but you're tired of sleeping on the ground or you have a dream of simply checking out and hitting the road, then a teardrop trailer might be the perfect DIY project for you. Sleek, nimble, and oh-so-comfortable, a custom-built teardrop trailer lets you escape in head-turning style. From sketchbook ideas to the complete step-by-step know-how, The Handmade Teardrop Trailer will train you up like a pro on how to successfully build this iconic camper. With only basic tools, easy-to-find materials, and a little bit of space required, The Handmade Teardrop Trailer will have you happily getting back to nature or out of Dodge in search of your happy place.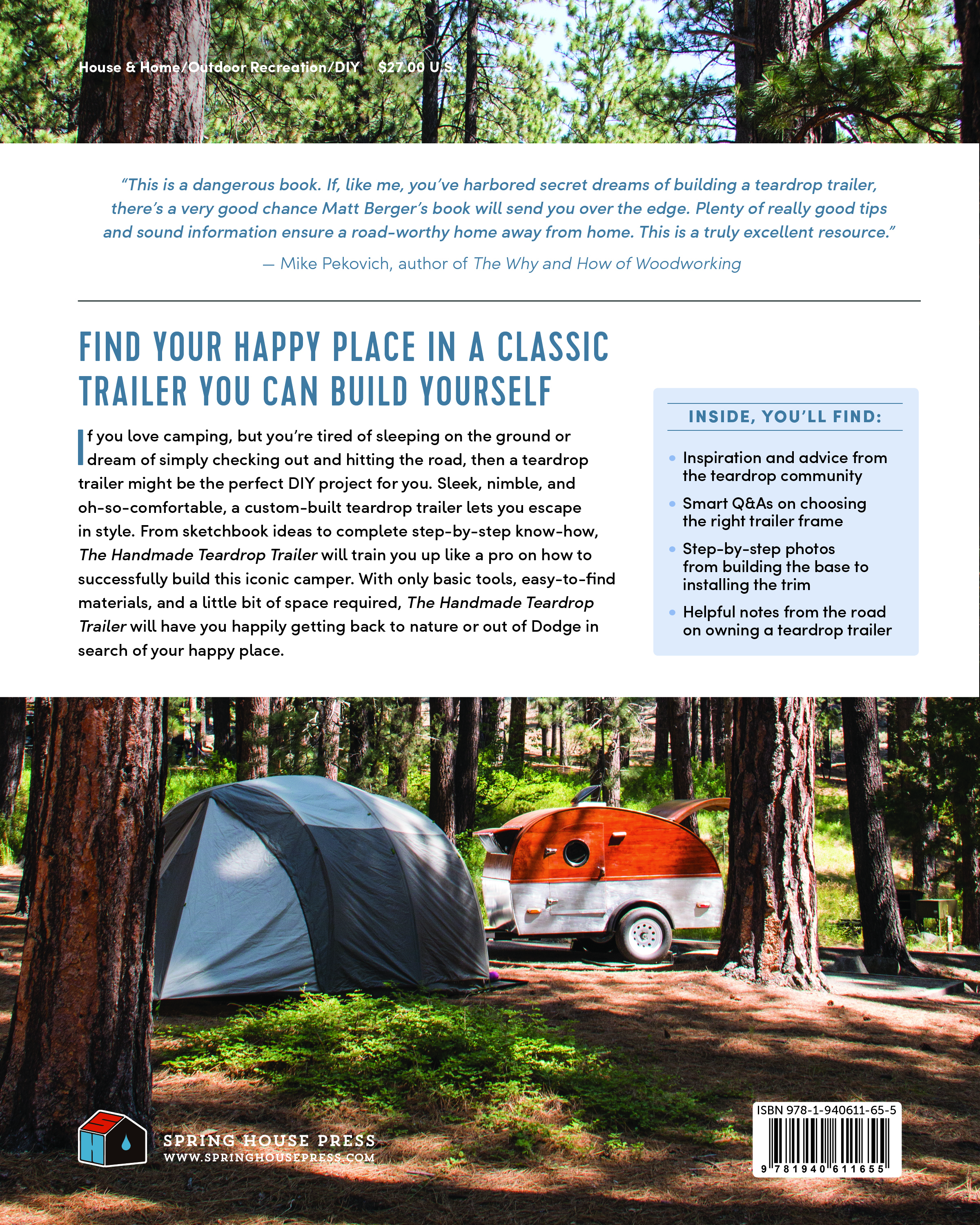 Additional Info
More Praise for The Handmade Teardrop Trailer…
"If you have a hankering to build your own teardrop camper, a good place to start would be Matt's book…He's taken all the guesswork out of a build." –– Cool Tears Magazine, Nov. 2018
"This book makes me want to break out the power tools and then take to the open road! No matter your skill level, if you've got an itch for building, Matt Berger's story and personable instruction style will inspire you to get your hands dirty and tackle creative challenges in a real way. Unlike many other DIY building books, this one is a truly accessible design guide and a step-by-step building recipe for the adventurer in all of us." - Emily Pilloton, Founder / Executive Director of Project H Design & Girls Garage
Take a Peek Inside…
About the Author: Matt Berger
Matt Berger, Californian designer and builder of everyday objects, is a lifelong hobby enthusiast and workshop adventurer. He makes his living helping companies design and build digital products, and makes a passion out of helping others design and build physical objects in his garage workshop and local maker spaces. Matt earned his stripes in the woodshop as an editor at Fine Woodworking magazine, where he launched FineWoodworking. com, and produced and starred in how-to videos for the Web site. Matt applied all the skills learned and practiced at the Fine Woodworking shop to create a series of workshops teaching students of all ages how to build a handmade skateboard. That turned into his first book, The Handmade Skateboard, and the DIY brand SK8Makers. With his second book, The Handmade Teardrop Trailer, Matt is still enjoying the great outdoors but expanding his DIY ambitions to a much bigger project.